2017 Open Sunday Softball Softball · Co-Ed Open
Requires Annual 17 Membership
MonTueWedThuFriSatSun
Team Fees

Early Bird

109.2

per player +

20.8

Membership Fee

Regular

145.6

per player +

20.8

Membership Fee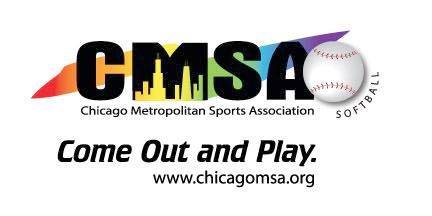 CMSA Open Division Sunday Softball

CMSA 12" Open Sunday Softball is one of the largest LGBT softball leagues in the country. CMSA Open Division Sunday Softball is open to all individuals regardless of gender.

If you are looking to participate in CMSA's Women's Division Softball, please email them directly at womenssoftball@chicagomsa.org.

CAPTAINS AND PLAYERS Please follow the new registration process listed below.
1) EVERYONE must set up a new profile in league apps and a new user id and password (If you have not already done so). Old CMSA profiles from the Thriva Database will not transfer.

2) The team captain MUST first register his/her team by paying his/her individual player fee. (Please remember to pay your INDIVIDUAL Player fee first)

3) Once the team captain's individual player fee has been paid, you are able to pay your team fee online.

4) Once the team is set up and the primary captain's player fee is paid, players can register either by selecting "team player" or by the captain inviting his/her players via email

5) Captains can check their own registrations

6) Players are still required to pay the CMSA membership of $20 for 2016-2017 season.


TEAM FEES

1) Sponsors or captains can pay the team fee via the following link
http://chicagomsa.leagueapps.com

IMPORTANT INFORMATION
Please email OpenSundaySoftball@chicagomsa.org to ensure availability for your team or you as a player.
Registration Process: The CMSA Open Division Softball Board and CMSA Finance Committee are requesting that all fees be processed online.

CMSA Membership: Please remember that all players MUST be current CMSA Members. The fee to become a CMSA Member is $20.00, which is in addition to your individual softball player fee. Your CMSA Membership is valid each year from 9/1 - 8/31.

CMSA Open Sunday Softball Fees: Please remember there are 3 fees associated with CMSA Open Sunday Softball. Fees: CMSA Membership Fee (This is the $20.00 annual membership fee charged by CMSA to be a member of the CMSA Organization. This fee is valid from 9/1 - 8/31.) Team Fee (Each team is required to pay the team fee, this is usually covered by the team sponsor). Individual Player Fee (This is the fee to participate as an individual in CMSA Open Sunday Softball.
The Fees for the 2017 CMSA Open Sunday Softball Season are as follows:


Early Registration Team Fee: $500.00 (March 1 - March 31)
Early Registration Player Fee: $105.00 (March 1 - March 31)
Regular Registration Team Fee: $600.00 (April 1 and beyond)
Regular Registration Player Fee: $140.00 (April and beyond)
Schedule: Games are scheduled to begin on April 30 and will conclude Mid-to-Late August.

Game Times: Games are scheduled to begin promptly at 8am and conclude approximately 5pm.


Thank you to all of our returning players and, Welcome to all of our new members!!